Prescott Trail Riders promotes motorized recreation in the Prescott National Forest – Central Arizona.  Prescott Trail Riders, in partnership with local businesses, government agencies, environmental organizations, and other motorized sports organizations, is recognized as the leader in expanding responsible land use for off-highway vehicles, ensuring availability and access for future generations.
Officially formed in 2014 Prescott Trail Riders Association (PTR) is an Arizona Non-profit organization chartered by the AMA – American Motorcyclists Association, and the AMRA – Arizona Motorcycle Racers Association.
The Prescott Trail Riders Association was created to support the protection, and promote the future, of motorcycling and the motorcycle lifestyle for riders in the region. PTR promotes recreational and competitive events according to AMA and AMRA sanctioned rules; along with trail maintenance and advocacy for future expansion in conjunction with the local and regional Forest Service programs.
Since the formation, Prescott Trail Riders has grown to over 300 members with new members signing up each month.  Located in central Arizona where the riding is between 4000 – 7000 ft, and with year round riding, members and nonmembers, enjoy the use of local trails and off-highway recreation in the area. Membership in P means the continued expansion and maintenance of recreational, and competitive, opportunities for the benefit of all users. Prescott Trail Riders offers competitive events and recreational expansions and results in the added benefit to the community by bringing additional visitors to the area to enjoy all that Prescott has to offer.
The following is a reprint of an article providing further insight to the club's mission.
AMERICAN MOTORCYCLIST FEBRUARY 2019
SETTING AN EXAMPLE
Prescott Trail Riders Protect, Improve Southwest Off-Road Riding
Return To Table Of Contents | Return To Magazine Archive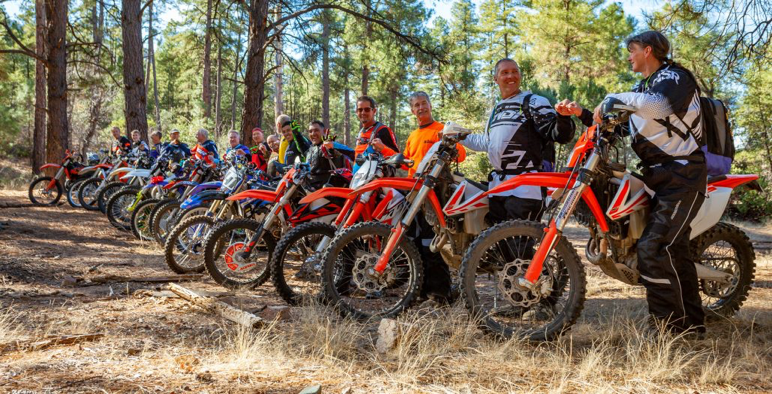 Barrett Johnson was one of six OHV enthusiasts who attended a backyard gathering in 2014 where the Prescott Trail Riders club was formed. Johnson now serves as president of the Arizona-based nonprofit AMA-chartered club that has attracted more than 180 members.
Johnson said the club has helped state and federal agencies maintain public trails, closed illegal trails, created a fund for injured riders, financially supported another club's battle to keep trails open and obtained grant funding for trail maintenance.
The club serves as an example of how collaboration between dedicated OHV enthusiasts can protect and increase off-road riding opportunities.
Growth And Successes
Johnson said the idea to form the club sprung from a chance encounter with an Arizona State Parks official in 2014. The official told a group of OHV riders he had grant funding available for conducting trail maintenance, but that they'd have to organize as a club before they could receive it.
That was when the backyard meeting took place. Johnson said there were eight attendees at the new club's second meeting two weeks later. At the third meeting, there were over a dozen.
From its outset, the club has worked closely with the U.S. Forest Service and Arizona State Parks on trail maintenance and management.
"We have concentrated on building solid relationships with local, state and federal agencies so that we are in communication with the issues facing us before they happen," Johnson said.
One of the club's early fundraising strategies was organizing off-road races.
"We put on a race, which gave us name recognition and money," Johnson said. "We got some press in the local paper and your [the AMA] magazine. We put on another race that was very difficult, and we decided to try for grant money instead of race money."
Club members obtained training from the Forest Service on how to lead trail maintenance work days and the club has been awarded more than $100,000 in grants to perform trail maintenance work.
The club also went to the aid of government agencies when disaster struck. When a wildfire was burning on public land in 2017, Johnson said, club members assisted Forest Service staff by scouting remote areas on their off-highway vehicles and placing signs to mark closed areas.
"We are now on the board of another local group, the Prescott Trail Safety Coalition, which was started because of conflicts between mountain bikers and equestrians," Johnson said. "We saw their brochures and realized it did not mention motorized users. We paid for new brochures that included a section on motorized use."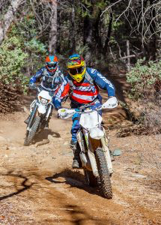 Working Toward A Bright Future
The club isn't resting on its short history of big accomplishments.
It also is a member of the Greater Prescott Trail Planning group, which is working to open a new riding area called Seven Mile Gulch.
"This is an area that has had a network of social trails for many years," Johnson said. "We are trying to bring these into the USFS system. We have used GPS to map about 50 miles of trails. More than 30 miles have been made legal."
The club is getting back into the racing scene in 2019, hosting an Arizona Motorcycle Riders Association hare scramble event in February.
"We have used the sound kit we got from the AMA at races, and we also set up a booth at our local dealership and tested bikes in an effort to raise awareness for the sound issue," Johnson said. "We are always looking for things that paint a positive picture of off-road motorcyclists."
Johnson's advice to new clubs is to work hard and look for financial resources that will help the club grow.
"There are resources available, make use of them," he said. "We have found grant money from unexpected places and gone out and got it."
Reprinted with permission from
American Motorcyclist Association- 1-800-262-5646