April 8 2020- Prescott National Forest Trails & Wilderness Volunteer and Partner Updates
Hello All,
I hope you all are staying as happy and healthy as possible during these difficult times. Michael and I miss working with many of you all every week and look forward to a time when we can get back out there together. We are still working, practicing social distancing, doing any administrative work from home and traveling separately when we go to the field. We are still working to clear many downed trees but we need your help with effective reporting as we can get them easily if we have good reports- see below.
As a reminder we have suspended all regular volunteer activities with the implementation of social distancing and the Governor's Executive Order for Arizonans to Stay home, Stay healthy, and Stay Connected. Trails related volunteer work is by no means essential under these conditions and we do not want to be encouraging any unnecessary gathering of people that do not need to congregate. Additionally, we do not want any of you that are authorized to work independently to feel as though we are encouraging any work at this time that could lead to injury that would create an unnecessary need for medical attention increasing the burden on the healthcare system and posing unnecessary risk to our volunteers.
Trails and Wilderness Areas across the forest and other municipalities are getting a tremendous amount of use as they are a great way to get exercise and get away from the madness. It really is amazing how many folks we are seeing out and about on our trails. Please see the press release at the Prescott NF webpage for updated information. Below are some bullet points that I hope can help us all manage our trails and use levels during this difficult time, just like when things are normal this community has proven we can be very effective together.
If a trailhead or recreation site parking area is already full please modify your plans and go to a less busy place, DO NOT park on the side of the road or pull into places where vehicles do not normally park. Some units are having to close popular recreation sites and trails due to heavy use that does not meet CDC guidelines for limiting the spread of COVID 19. So again, please make good choices and do not overcrowd our trails and recreation sites. Your support of these measures facilitates keeping sites open, providing beneficial outdoor opportunities to the public. We want you to be safe, practice effective social distancing, and protect the natural resources.
Take trail courtesy to a new level and when you see someone coming step aside in a spot that allows for effective distancing, remember your trail courtesy guidelines with who yields to who. Uphill traffic normally has the right of way.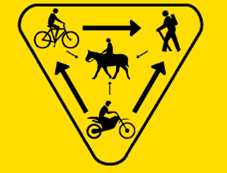 Poo before you play (at home), many of our restroom facilities are closed due to the virus as we cannot keep them cleaned to the standards outlined by the CDC to limit spread of the virus. If you must go number 2 please be prepared to follow Leave No Trace principals and get at least 200 ft from the trail and water sources and bury your waste 6-8 inches. To learn more visit https://lnt.org/the-leave-no-trace-recommendations-for-getting-outside-amidst-covid-19/ . Do not forget to pick up after your pet as usual and you will need to take it home with you, please do not leave it in a nice little bag at the trailhead or along the trail.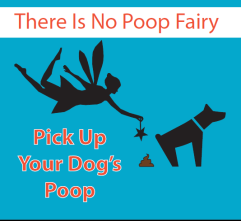 Pets must be leashed! There is nowhere in the Prescott National Forest where dogs are allowed to be off leash under Yavapai County Ordinance 2000 – 3 Please be extra considerate with your pets during this time as most people probably don't want to pet your dog even if it is super cute and friendly, you know social distancing and all.
Reporting downed trees and other trail issues: call, text, or email Michael Reveile (928)-800-2253 – michael.z.reveile@usda.gov and/or Jason Williams (928) 925-6472 – Jason.a.wiliams@usda.gov
The best way is a screen shot of the location where the issue is from your smart phone (see below), the red pin is the marked location in this shot and the UTM coordinates of where the faint crosshairs are centered are at the bottom of the screen shot. Then a picture with something for perspective for us to see how big a tree or what the issue is so we bring the right tool for the job.
If these methods do not work for you the alternative is to call, text, or email and give a good description that includes: Trail #, closest access point, and description of issue.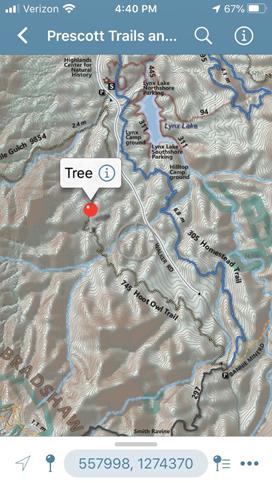 Example: 16 inch tree down on Hoot Owl Trail #745 about 2 miles south of 7mile Gulch Trail #9854. Best access from 7mile Gulch.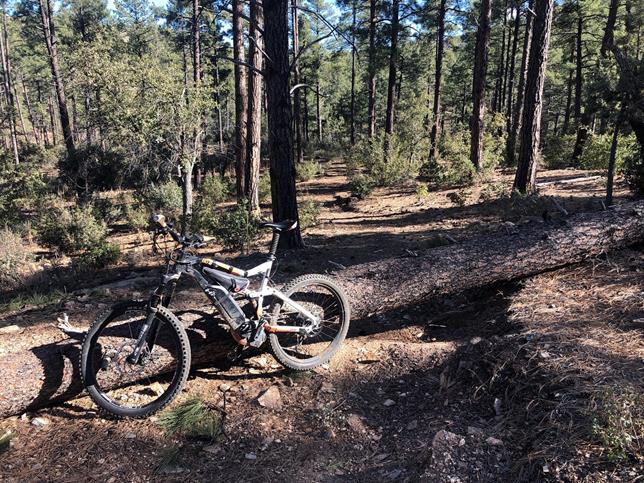 Yes that is an E-Bike on the new 50 inch and less motorized Hoot Owl Trail #745 that connects the Smith Ravine TH to 7 Mile Gulch Trail #9854.
Recently we have logged out the following trails: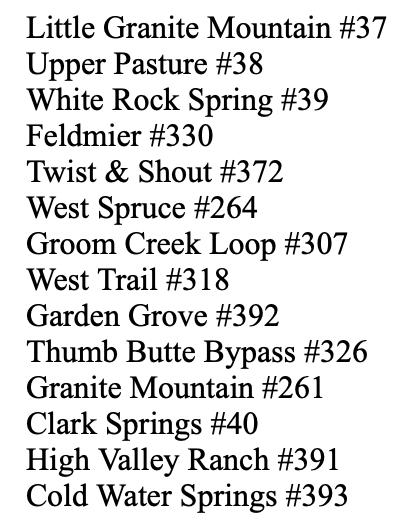 Other Items of Interest:
Blowout Wash Trail System outside of Clarkdale/Cottonwood had a very successful trail building season with the Verde Trail Volunteers this year and approximately 4 new miles have been added and an additional 12 have been layed out for next year.
Greater Prescott Trails Plan Annual meeting for May 2020 will be rescheduled or cancelled, but stay tuned for more exciting information on new and ongoing plans for the trail system
Spence Basin Signs- the first batch of signs have been submitted for production, no idea when they will be ready, but things are happening.
The Francis Timber project above Thumb Butte is nearly complete, all tree cutting has been completed. The logging contractor is still hauling logs and working on completing the necessary close out work to obliterate skid trails and reopen some of the forest trails. There will still be some temporary closures in the area and equipment working. The Prescott Circle Trail is open and we are working to open other areas. Please be cautious in the freshly logged areas and give working equipment a wide berth.
I am sure there is more to say and things we missed. If you have any comments and/or questions please do not hesitate to contact Michael or I. Be safe, enjoy our trails responsibly and be nice to each other.
Take care,